Forget people watching. The new sport of choice for restaurants is watching the cars at the valet stand. At Mexican, an ultra-stylish new spot in the Design District, front-door valet parking is reserved for the best in Dallas. I saw two Ferraris side by side, two Bentleys, a Maserati and a Porsche 911 with aftermarket matte black paint. Less beautiful automobiles are driven around the block, away from prying eyes. Even Teslas get the boot. When my ten-year-old Ford Focus rolls along, with its struts, wobbly transmission, and hood spattered with bird turd, eyewitnesses are likely expecting Lt. Columbo to slump in a trench coat. coat.
All these drivers in all these cars stop in front of a grand and impressive building that turns its back on Turtle Creek Boulevard. This back is not turned in an inhospitable way (unless you are a pedestrian or a cyclist); it is an architectural choice to add a sense of surprise to the delights of the interior.
Walk through the imposing double doors of the Mexican and splendid visuals await you. There is a long rectangular bar perfect for seeing and being seen. A wall of tequila and mezcal bottles kept behind glass like works of art, although some are quite inexpensive. Intricate tiling and wooden fittings and geometric zigzag patterns on the walls and ceilings. At least two large main dining rooms and three private dining rooms, two different sets of bathrooms, and two patios, one traditional and the other a cigar room where liquor bottles seem to defy gravity and hover on the ceiling.
There are countless standout details, such as small peepholes between the bar and dining area, perfect for peeping in, and the tasteful coverings on the floor-to-ceiling windows, which keep the space warm but not blindingly lit. The ladies' bathroom has a fashionable podium.
If you're wondering why this review pays close attention to the visuals, vibes, and valet scene without even considering the Mexican's food, I have bad news: the restaurant owners did the same thing.
At a time when Mexican cuisine is reaching new levels of creativity and craftsmanship in Texas, this cuisine is stubbornly reactionary. The Mexican's culinary innovations include guacamole, queso, tortilla soup, chopped salad, shrimp enchiladas and grilled chicken. But, hey, the leches cake goes to the cuatro instead of tres.
Mexican is surprisingly light on Mexican cuisine. There are no moles, no nopales, no chapulines or other insects, no huaraches or tlayudas, no flautas, no pumpkin flowers, no calabacitas, no tetelas or molotes, no carnitas, no tamales. There is no eightlacoche, no birria, no jicama, no pozole, no chamorro, no menudo, no pescado Veracruzano, no fideo, no cabrito, no pepián, no pan dulce . There is nothing al pastor.
It's getting worse. Restaurants such as Revolver Taco Lounge, José, and La Mina, as well as pop-ups such as Molino Olōyō, are making their own corn tortillas from scratch by nixtamalizing ancient corn. The resulting rainbow of tortillas delighted the eyes and taste buds of Dallas residents. At The Mexican, corn tortillas are made with Maseca, a product of the world's largest corn flour processing company. It's the stuff used in most unmarked tortillas, including the Mission brand, which is part of the same international conglomerate.
Many taquerias use Maseca. Some add their own flavorings to add individual touches, like El Rincón del Maíz in Garland, which offers corn tortillas flavored with guajillo peppers, cilantro, beets or chocolate.
The Mexican doesn't have flavored tortillas. On their own, they taste and chew like pancakes, and their sugary load of preservatives drives every dish a tortilla pops up in. I've had many bites of tacos where the first thing that hit my tongue was a weird, malty, chemical sweetness, and then, once that was away, the toppings turned out delicious. At one point, I emptied a taco onto my plate and ate it with a fork.
All of this makes it seem like the creators of The Mexican spent all their money on interior design and then forgot to hire a chef. Nothing that follows dispels this idea. (There is, however, one executive chef: Christopher Tunnell, an Oklahoman who has traveled the United States cooking in hotels and casinos.)
His restaurant is, oddly, both a bid for high-end grandeur and a lengthy product ad.
Take the free chips and steal five salsas, part of Dallas' ongoing arms race to see who can serve the most. Although they are listed "mildest to strongest", only one is hot, the watery mixture of lime juice and piquín peppers. That and a chile de árbol sauce is pretty cool, but the "truffle aguachile," a mix of truffle oil, lime, and something orange, is like a dating show Netflix: So Disgusting It's Fascinating. The salsa tastes of lime, parmesan and Windex. It's one of the 10 weirdest liquids in Texas, along with Martin House's buffalo wing flavored beer and the Trinity River in the spring.
(Please remember that most "truffle oils" are a chemical concoction that rarely contain any trace of actual truffles. Mexican's Favorite Brand lists artificial flavors and real white truffles as ingredients. , in this order.)
This alarming sauce reappears, perhaps different in wording but not in result, on rib-eye aguachile, an appetizer that lightly douses the wagyu rib-eye cap in enough truffle oil that I be surprised that the meat does not cook by abrasion. Order that and some coliflor asada, a moist cauliflower dish that's supposedly roasted, and your mouth will be so full of truffle agent it'll burn like industrial cleaner. I felt like I had drunk a bottle of cologne. For a few minutes, nothing else tasted.
You might be wondering what The Mexican is if it's not a Mexican restaurant (or a truffle oil commercial). It's a steakhouse. There are seven cuts of steak, most described as wagyu. There's the high-end seafood dishes you'd expect from a steakhouse, including a Chilean sea bass that blew me away – it's described as pescado zarandeado, a real Mexican dish – before I discovered that the fish is plated on swiss chard leaves so vinegary and salty they're as if Southern grandmothers cooked collard greens as punishment for troublemaking children.
Our filet mignon was cooked "à la roca", which, according to the menu, would arrive "on a hot lava rock". It sparked the imagination. Will it sizzle like fajitas? Will it look like Japanese ishiyaki hot stones? No: the huge black brick serves as a gently warmed plate. I'd bet a Pacifico beer will leave the menu after the waiters start spraining their wrists.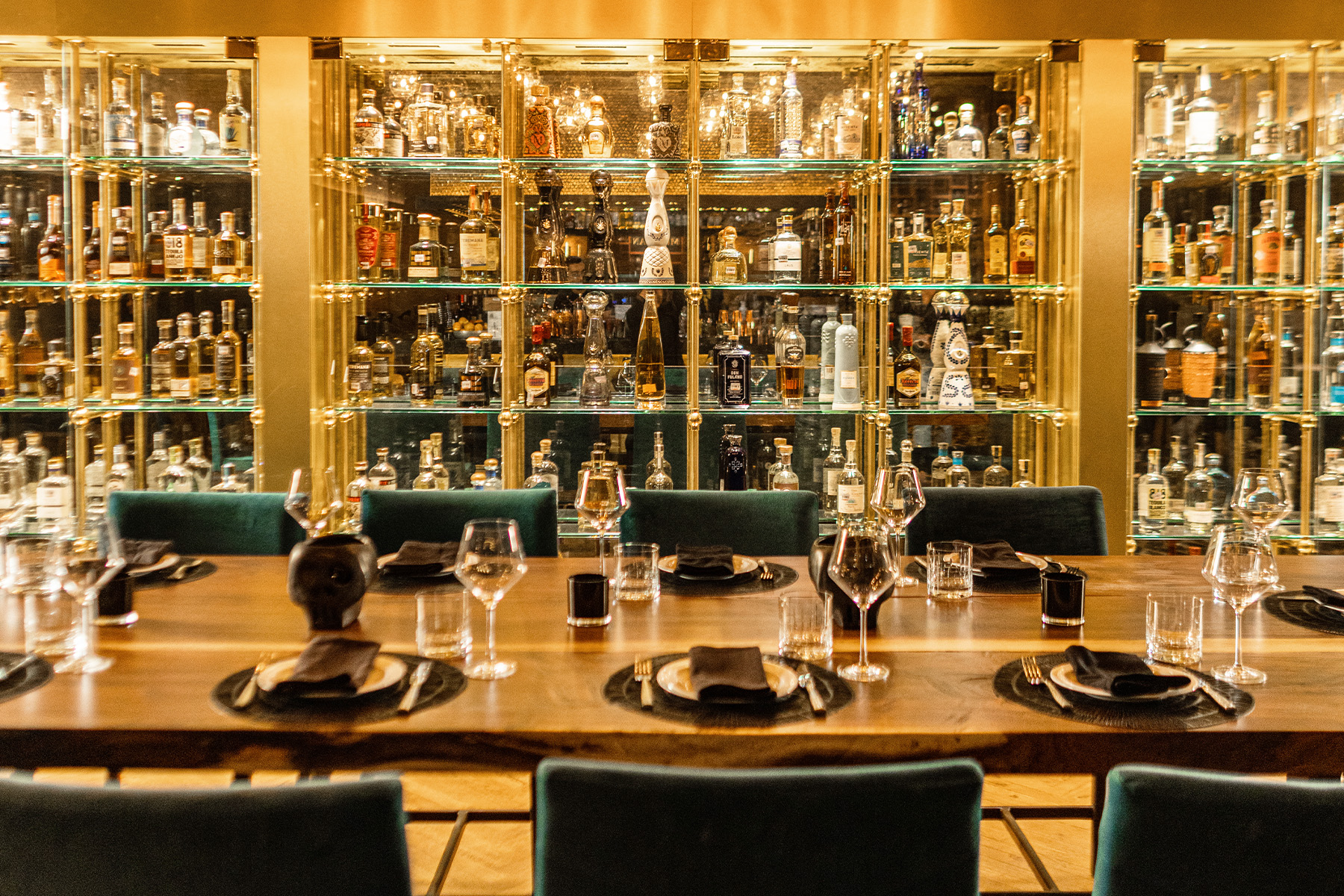 Fortunately, The Mexican serves a classic Mexican dish: tacos. The barbacoa appetizer is a set of four tacos for $19, featuring savory meat on lightly grilled tortillas, served with salsa verde. There are at least 50 good places in Dallas to order this dish. The Mexican's innovation is to have a server who puts the meat next to the taco table. The same goes for the queso fundido: it arrives bubbly in the pan, then a waiter stretches it out and pulls it like dough and drops small balls into tortillas.
The carne asada tacos, for $7 each, taste just like the ones you get for $2 each.
After my first meal at the restaurant, I met a friend who had left separately. He asked me, "Did they also give you a single wedge of lime for a whole plate of tacos?"
There are winners. I could childishly appreciate the mashed potatoes with cheese. The rib-eye chicharrón is a generous bowl of good guacamole, topped with crispy pieces of fried beef. The lobster elotes are soupy and expensive ($28) but they taste great. The cuatro leches cake is ok and the chocolate cake is almost good. It starts out great with guajillo chili cream and pepitas for spice and crunch, but then it's all drowned in a chocolate syrup so sweet we flipped our slice upside down and ate it. ate from below.
I loved the culichi tacos (named after Culiacán, Sinaloa), which feature chopped red snapper fried in small crispy puffs. They're like fish tacos with a basket of fried New England seafood. The mushroom tacos cover their lack of meat with a fiery salsa that has as much flavor as the rest of the menu put together. (Truffle oil doesn't count.) And while the shrimp tacos have a rather ugly dark gray sauce, they also have a pleasant creamy sweetness. Plus, sweet shrimp pairs well with sweet waffle tortillas.
Oh yes. About those tortillas. Co-owner Roberto González Alcalá, the eponymous Mexican, is a former CEO of Gruma, the parent company of Maseca and Mission Tortillas. His restaurant is, bizarrely, both an offer for high-end greatness and a lengthy product placement ad for cheap bags of industrial flour. It's like going to the fanciest Italian restaurant in town and discovering that the cooks are there popping pots of Prego.
None of this makes sense except as a product of wealthy businessmen who believe their own hype. Would you spend millions of dollars building a lavish dining destination with two patios and a cigar room if you had invented Tuna Helper?
I forgot to mention the $250 margarita named after socialist revolutionary Pancho Villa. This is another sign that The Mexican really wants your attention, and I already regret giving him so much of mine.
---
This story originally appeared in the July issue of Magazine D with the title "Masa of None". E-mail [email protected].
Author
Brian Reinhart
See profile


Brian Reinhart became D Magazine's food critic in 2022 after six years of writing about restaurants for the Dallas Observer and the Dallas Morning News.